Mountain Biking is the sport of riding bicycles off-road, often over rough terrain, using specially designed mountain bikes.  North Rodney Blue Light supports groups to enjoy one of the most thrilling ways to experience the diverse off-road trails that New Zealand has to offer.
Suitable age group: 12 years of age and above.
North Rodney provides 14 x Adult sized "Avanti Barracuda" Mountain Bikes and can transport on our trailer to venues such as the Woodhill Mountain Bike Park, Rotorua Mountain Bike at the Whakarewarewa Redwood Forest and camps such as Safari camp at Whananaki.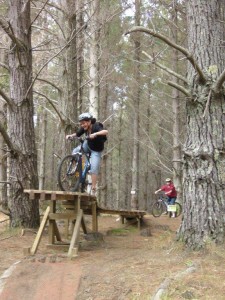 The mountain bikes are generally used in conjunction with our programs, or programs we are assisting with, and not for hire or loaned to separate groups.
Safety is paramount and Activity and Site specific plans are arranged prior to the event.
Safety Action Plan: click here to download pdf file